Legal marketing, whether it is for an individual lawyer, a practice group/section or an entire firm, requires a well-developed plan. Effective marketing creates awareness and establishes authority which generates more legal work and revenue. Since marketing a law firm should be considered an investment, a marketing plan is necessary to ensure a satisfactory return on that investment.
Factors to Consider
When developing the actual law firm marketing plan, the following factors should be considered: the firm's priorities regarding workload increases, client types and billing arrangements; funding and marketing support availability; and the timeframe for the implementation of the marketing plan.
Based on these considerations, we suggest a planning workflow consisting of five steps:
Goal identification,
Status analysis,
Market segmentation & target client definition,
Activity planning and
Implementation

Made by PerformLaw
1.) Goal identification
The process begins with the identification of marketing goals. Having specific goals allows lawyers and firms to see when their plan is succeeding and when it needs more work. Goals are most effective when they are measurable and when they reflect the factors identified in the previous section. They should include metrics such as the number of new clients, amount of new revenue, time spent on marketing (daily/ weekly and per year), and marketing activity investment.
2.) Status analysis
This next step includes an analysis of a lawyer's or firm's current marketing portfolio, along with their marketing potential. To accomplish this, a SWOT analysis (Strengths, Weaknesses, Opportunities & Threats) is a helpful tool. It assesses an individual or a group's marketing strengths and weaknesses to determine what they can build on and which areas they need to improve or leave out of their plan.
The opportunity analysis examines marketing and business development opportunities that present themselves, including the weaknesses one wants to turn into strengths. This analysis can serve as an indicator for the direction of the marketing strategy. Finally, the firm's threats or factors that could cause problems for the firm's business are important to include in the plan.
3.) Market segmentation/ Target client definition
In this step, a lawyer, group, or firm clearly defines the important services they provide to their clients and what sets them apart from competitors. They also describe their ideal client based on the practice area in terms of demographic, geographic, psychographic, and behavioral characteristics.
The details generated from this exercise create a more effective platform for selecting marketing tactics for a target audience.
4.) Activity planning & scheduling
Here, the objective is to develop an activity portfolio that delivers the most effective marketing message to the target audience defined in the last step. For the purpose of this exercise, we divide legal marketing activities into three categories:
Relationship-building activities
Content development and delivery activities
Contact database management
Relationship-building activities revolve around referral source contact, client and prospect entertainment, and organizational involvement (bar associations, local organizations, and clubs). While these activities help to communicate brand value and strengthen networks on a personal level, they are not necessarily intended to actively market practice or an entire firm. Relationship-building activities are aimed at increasing the likelihood of referrals and building a strong reputation in the community and the legal market.
Example:

Content development and delivery activities include blogging, website development, email newsletters, social media management, publications, and speaking engagements, as well as advertising. These activities serve to raise awareness, increase credibility and create interest among a broad audience. Not only do they increase popularity and shape the brand image among potential clients, but they also support the reputation achieved from networking and word-of-mouth referrals.
Example: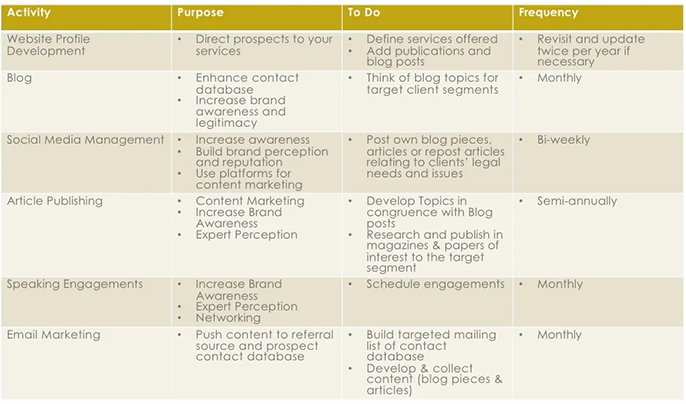 Contact database management is an important practice to create and maintain an overview of existing contacts, along with any new contacts established as a result of the aforementioned relationship and content-related marketing activities. With a frequently updated database, lawyers and firms can deliver their marketing message and strengthen valuable relationships with existing clients and prospects.
Depending on the number of contacts collected in the database, anything from a spreadsheet to a complete CRM system may be required to effectively manage it.
Example:

The frequency of each activity should be guided by the available hours dedicated to marketing, while the time split between the three activity categories should be oriented towards the target segment characteristics. While these are important guidance aids for the efficiency and effectiveness of the plan implementation, the lawyer's marketing skills, including creativity, speaking, writing, technology affinity, etc., should also be considered.
Example: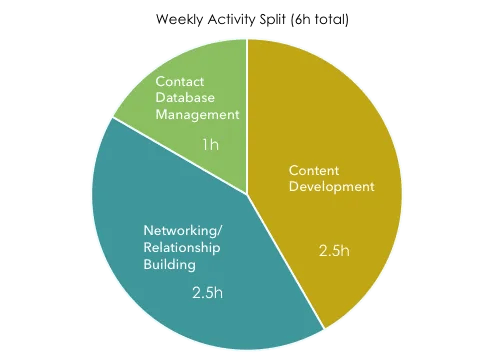 The other two crucial factors influencing activity mix and frequency are the available budget- due to costs associated with organization memberships, conference attendance, web development- and the firm internal marketing support. The availability of support for the organization, design, formatting, and scheduling aspects of the marketing plan can significantly impact the efficiency of a lawyer's marketing dedicated hours.
5.) Implementation
Once the components of the plan have been identified, it is time to execute the plan. To ensure all the marketing components are put into action, a marketing tool can help to map out frequencies, dates, and budget requirements for the implementation timeframe.
Example:

---
Wherever you are with your marketing efforts, PerformLaw can help you to develop and implement a marketing plan that is effective and

makes the best use of your busy time.



Learn more about our Plans and Pricing.