Supporting law firm marketing efforts with a compensation system that aligns risks and rewards is ideal. We like profitability based compensation systems in most all cases, but especially in entrepreneurial firms with highly mobile partners.

Successful firms create thriving internal economies that manage overhead appropriately, invest in people wisely and pay competitively. Supporting these high-performance cultures are well-established objective norms that advance effective decision-making with only a necessary amount of subjectivity.

When offering a value proposition to successful partners, we recommend that firms consider their ability to meet the following criteria:

• Pay partners a competitive market return;
• Encourage impact on the priorities of the firm;
• Provide capital to build a practice;
• Give access to billable work while building a practice;
• Generate better opportunities as a result of working with other partners.

For a collaborative marketing environment to exist, a firm needs policies addressing client profit splitting. In many firms, origination credits are tied to compensation. Partners must have directly impacted the origination of a client to get credit. To overcome this, we recommend a compensation system based on client profitability that allows partners to share profits on a flexible basis.

Sharing of client profits is an incredible motivator if properly managed. Client profit sharing systems work very well in firms with partners who focus on the competitive advantage of delivering the best possible service to clients.

Smart partners and collaborators realize that it is not important to push profit splitting on the margins. Fair always accompanies a judgment. The important things to remember are that clients come first, and everyone should be incented to provide their best work.

As a starting point, we offer the following profit sharing guidance. It should be noted that several other scenarios exist for client profit sharing. For example, a different client sharing agreement may be applicable when connected to a succession plan or lateral agreement.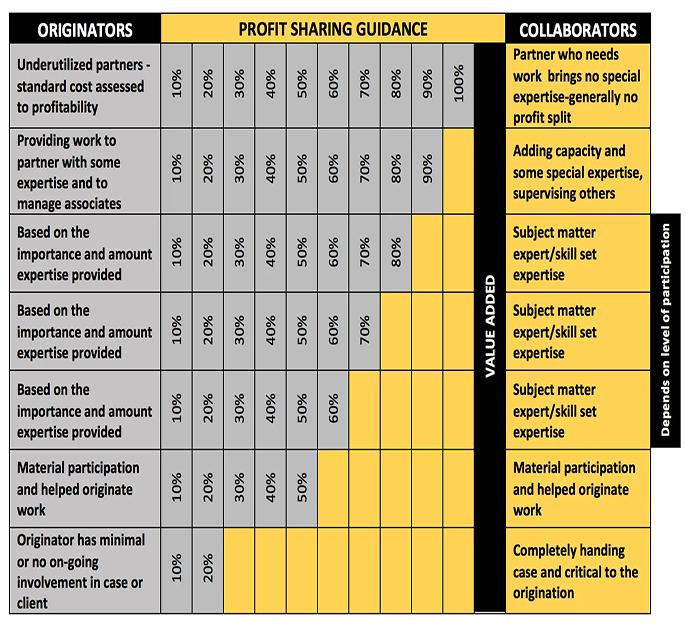 The actual percentages are flexible and usually left to the collaborating partners. These guidelines are a good starting point and allow for a structured discussion. Good origination policies create a collaborative environment that results in better client service and partners who learn how to succeed together.
---
Review our webinar recording and Slideshare presentation for further information regarding client profitability and compensation.
---