​​Most law firms take a relatively narrow approach to formulating their goals. They define success with a handful of financial metrics and focus heavily on profit maximization, with billable hours as the single most important KPI.
However, this approach limits strategic planning. It ignores the potential long-term implications of in-the-moment business decisions, and, in turn, reinforces shallow and unclear goals. As a result, growth may become unstructured and its impact unpredictable.
Many firms lack the flexibility to address changes in the external environment, such as demand trends or social, economic, or technological developments, which carries significant risks concerning long-term competitiveness.
Instead of a rigid short-term focus, we encourage law firms to expand their success metrics and establish more comprehensive performance reviews. We recommend using a well-rounded set of key performance indicators that measure success beyond short-term profitability.
For clarification, metrics are general performance indicators, and KPIs are a subset of metrics used to measure performance towards specific objectives.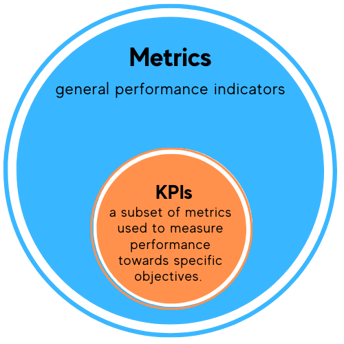 Developing effective KPIs for a firm is not as easy as copying other firms. While universal KPIs exist that can be applied to most firms, it is essential to understand the contextual factors that apply to your firm before relying too heavily on one metric or another.
In this article, we introduce the various levels of KPI reporting that law firms should use to expand their definition of success.
Basic, Intermediate, and Advanced KPIs
We organize KPIs into categories: basic, intermediate, and advanced. Grouping KPIs by function or purpose is also helpful. For example, financial, operational, marketing, client service, cultural/social, workforce, etc. If data are available, creating KPIs is possible.
We will group KPIs into financial and non-financial sets to keep it simple.
We should note that what may look like a simple one-page analysis can quickly turn into dozens of measurable factors, but more is not always better. Typically, many purported KPIs lack the utility to drive an effective real-life action and lead to counter-productive actions.
Actionable KPIs for all Law Firms
Basic KPIs
Almost all responsible firms at least look at a basic list of key performance indicators (KPIs) on their reports. For the firm as a whole, those include:
Fees, expenses, and net income are measured against a preset benchmark (industry, internal plan, historical)
Accounts receivable (AR) and work in progress (WIP)- (Months Invested, Age, # Delinquencies)
Cash flow, debt, and equity levels (Capital/Mo.Payroll, Capital/(Mo. Payroll + OpEx)
Billable hours, billable value, billings, and collections (non-hourly firms tend to focus on gross dollars collected)
For timekeepers (revenue generators), the key metrics include:
Productivity (Billable hours)
Billable Value
Billings
Collections (dollars generated in a non-hourly firm)

*

Bill Rates and Realization
Profitability (sometimes if they have a robust system)
*Revenue attribution is sometimes challenging in non-hourly billing firms.
Beyond the standard financial reports, firms sometimes also look at capacity and demand-related metrics such as:
Case count
New cases vs. closed cases over a defined period
New clients and clients lost/finished
In our experience, most firms focus on these primary KPIs because the information needed for these measurements is easy to obtain and does not require advanced financial knowledge to create them.
Intermediate KPIs
As mentioned earlier, many firms stop at simple performance measures. Many can't look at intermediate KPI reports because they lack the systems and knowledge or the necessary data or choose to take an oversimplified view of their situation.
A smaller subset of firms takes the time to collect data and develop systems that provide additional insights into firm performance. In addition to viewing primary KPIs, they review other information we consider intermediate financial reporting. Here we also start to focus on operational performance and financial results. Firms who think on this level want insight into how they achieved success.
Intermediate financial reporting includes:
Financial KPIs (average bill rates, billable hours, and collections per TKPR), with robust sorting features that provide insights into performance by position, practice area, experience, tenure, client, and team.
Average profit and profit margin per timekeeper with the same sorting capability
Compensation and overhead benchmarks by experience, position type, qualitative scores, and market ranges.
Intermediate non-financial reporting includes:
Average days files are open
Files opened and closed per week/month
Associate and paralegal leverage per client/case
Average time spent per case, client, task, etc.
Utilization rate
Marketing KPIs include client conversion rate, client retention rate, new clients vs. lost clients
Advanced KPIs
Rarely do law firms turn to advanced KPI reporting that fully captures the underlying causes of performance outcomes.
Advanced financial metrics include:
Profit by client and matter
Payroll and overhead per hour
Profit Per Hour
Return on invested capital
Reporting levels typically include firm, client, matter, case, and assignment.
On the non-financial side, only a few firms consider measuring qualitative metrics or their correlation with performance, such as:
Job satisfaction (feedback surveys)
Quality of the work environment (feedback surveys)
Management efficiency (direct reflection of productivity, operations metrics, turnover rate)
Turnover rate (

How to measure it

)
Staffing efficiency (over/ underutilized employees)
Training quality (performance expectations compared with training progress)
Organizational stability (summary of the metrics above)
There is a wide range of measures law firms can track to assess their performance. Without a comprehensive set of metrics, law firm managers have an incomplete picture of the health of their organizations. Their ability to analyze the underlying factors for financial or operational challenges and to identify patterns or create models to forecast future performance is limited.
Law firm managers must get the help they need to determine the right package of basic, intermediate, and advanced metrics for a compelling KPI mix.
Choosing the right mix of KPIs
We recommend that law firms review their capability (reporting and knowledge) and take the necessary steps to gain a more nuanced assessment of essential metrics related to productivity, return on investment, profitability, and qualitative results.
An effective data analytics function requires these essential elements
| | | |
| --- | --- | --- |
| | Data Capture | Which tools are in use and which policies are in place to ensure accurate and complete data capture? |
| | Data Analysis | Which reports are automated? Which ones require manual input? Who is in charge of analyzing them? |
| | Modeling | Is there qualified in-house or outsourced staff in place to forecast future results? |
| | Action Steps | What is the procedure for addressing findings, and who is in charge of strategic plan development? |
Once there is clarity on the structure, it is time to define the KPI stack. The right mix depends on a multitude of factors, including:
Vision, goals, expectations, and timing
Business cycle phase (Startup, Growth, Maturity, Decline)
Firm culture
Size/Scale
Organizational structure
Operational systems and processes
Location
Goal setting has a significant impact on which KPIs are important. Devoting time to formulating a vision, goals, and objectives is critical to determine which performance metrics matter. All firms should incorporate basic, intermediate, and advanced KPIs into their reporting habits.
While some of the more advanced elements may need to be tracked informally in smaller organizations, the idea is to compile a list of metrics that managers can trust to adequately reflect the firm's performance measured against specific goals and expectations.
In outlining the range of metrics throughout this article, we hope to show law firms that they can define goals and measure performance against them using metrics that go beyond simple short-term financial objectives. A firm that sets goals in the interest of all stakeholders while measuring performance through various financial and operational metrics is prepared to overcome challenges and prosper.
Conclusion
Law firm decision-makers should not let limited finance considerations dominate strategy and operations. Long-term financial health comes through a stable and sustainable organization.
With a comprehensive reporting system in place, law firms can identify what is happening and better understand why it is happening. They can focus on metrics contributing to a healthy work environment while ensuring financial and cultural stability.
---
ADDITIONAL RESOURCES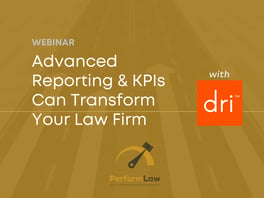 WATCH: WEBINAR: Advanced Reporting & KPIs Can Transform Your Law Firm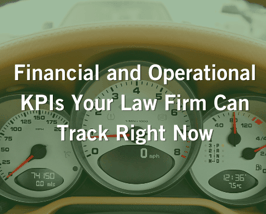 READ: Financial and Operational KPIs Your Law Firm Can Track Right Now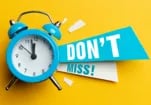 Use the space below to subscribe to our blog so you don't miss this next article or other information to help you build a great law firm.