Are your law firm's investments creating a return? Which practice areas should your firm focus on more or less? When is it time to hire help? The list of questions could go on, but these are the ones we regularly hear from our law firm clients.
These questions all seek more or better information. The good news is that law firms have access to the information needed to answer these questions.
In our previous article, we emphasized the importance of embracing data analytics. Law firms that identify, measure, and act upon smart, well-defined Key Performance Indicators (KPIs) have a notable competitive edge. Not only can KPIs incentivize better performance; they can also incite more effective decision-making at law firms.
There are unlimited possibilities of what law firms can measure. Before we dive too deeply into data analytics and KPIs, let's start with a review of the information your law firm should have access to now and how this data can answer many of your firm's questions.
Basic Reports
Basic reports consist of limited descriptive and diagnostic data analytics that describe a historical result and a few relevant variables, whether apparent or not. Analysis of these data is high level and fixed. Basic law firm report sets typically include information about financial and operational performance.
Here are a few examples of each:
Financial Reports (Basic)
Financial reports mainly focus on revenue, expense, and profit. Most accounting or practice management software applications (on-premise and cloud) feature the following on-demand reports: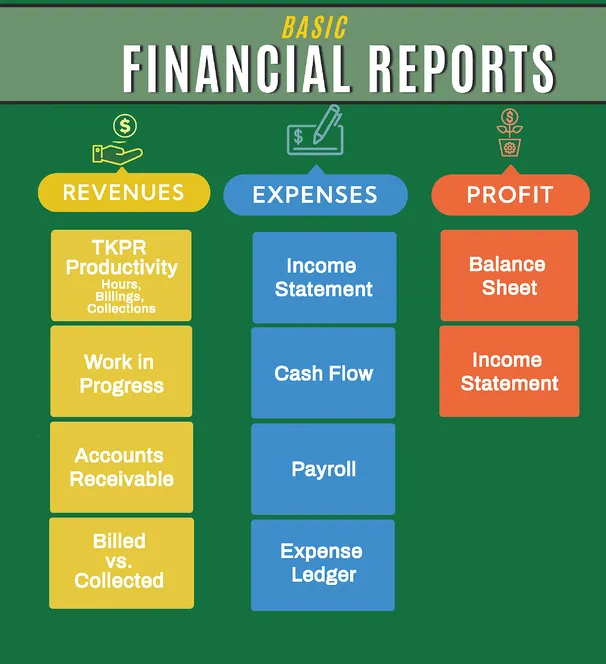 Operational Reports (Basic)
Operational reports provide a high-level overview of workload, capacity, staffing, and throughput. Data collection is typically available through adaptations of the calendaring and task management features of Microsoft 365 or other email mail managers. Some law firm financial management systems contain operational management reporting while some advanced firms may have a dedicated case management application.
Regardless of what combination of applications a firm uses in collecting the data, if data entry is consistent and follows the required form, the following reports are typically available: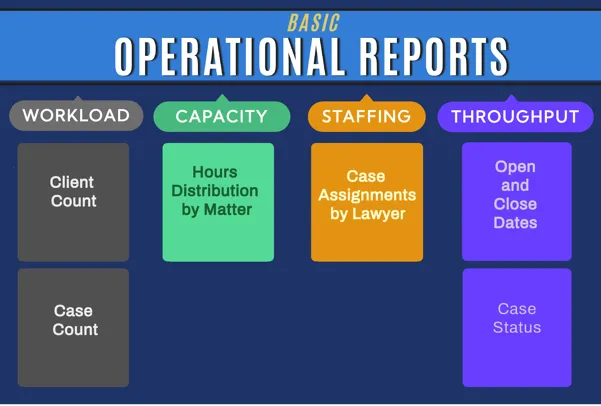 Staying on top of these operational data points will help ensure client service levels are visible, professional staff workloads are balanced, matter staffing is appropriate and files are moving through the system at an acceptable rate.
Advanced Reports and KPIs
The purpose of advanced reporting with key performance indicators is to provide deeper insights that result in better decisions. Producing meaningful advanced reports and KPIs requires additional data sources, data collection and organization disciplines, and diagnostic and predictive data analytics processes.
Everyone would agree about the benefits of reasonably predicting future outcomes. Data analytics tries to marshall historic and likely future data points to find patterns that indicate future results. With fundamental statistical analysis (adequate sample size, mean, standard deviation, regression, and hypothesis testing), drill-downs, and comparisons, law firm managers can better understand what is happening, why it is happening, and the probability of future events.
Again, we can separate data points into financial and operational reports and KPIs. Here are a few examples:
Financial Reports and KPIs (Advanced)
Advanced law firm financial KPIs can also focus on revenue, expense, and profit. But additional data sources and analytics disciplines allow for granular analysis, pattern recognition, and more accurate forecasts.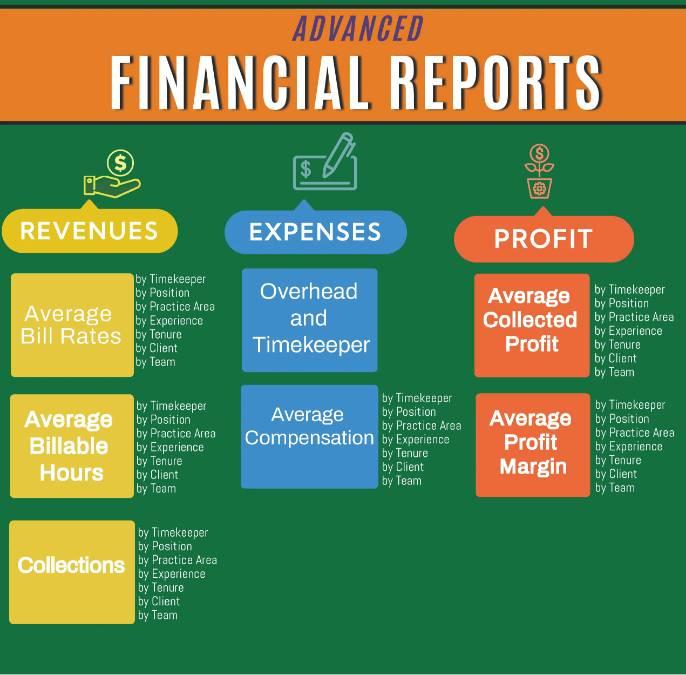 Operational Reports and KPIs (Advanced)
Operational reporting and KPIs enable the calculation of essential production metrics that indicate process efficiency, optimal workloads, and staffing, and ultimately infer client satisfaction.
Here are some of the most important indicators: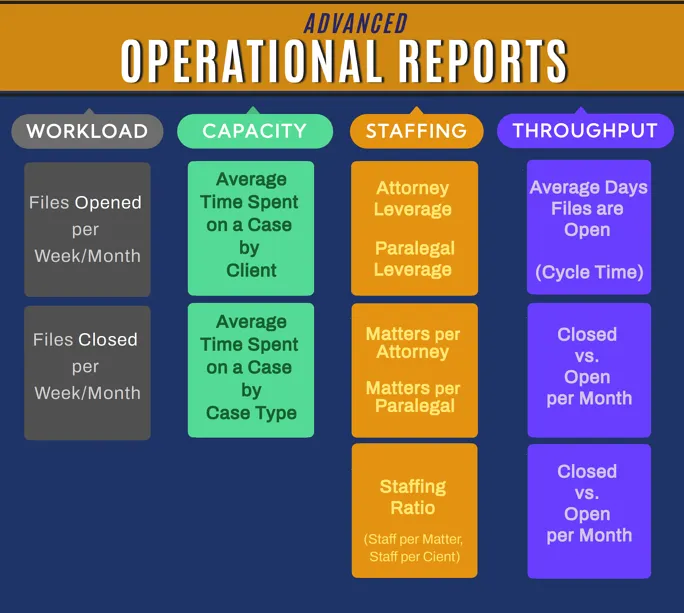 Predictive indications can come from the combination of financial and operational data points measured over relevant time frames. It is important to understand the impact of external factors on performance. For example, you may want to consider seasonal fluctuations along with trial and vacation schedules when forecasting future performance using moving average and time-series methods.
Check out our follow-up article where we discuss data modeling techniques law firms can use to predict how certain changes will impact future performance. You don't want to miss it!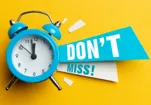 Use the space below to subscribe to our blog
so you don't miss this next article or other information
to help you build a great law firm.