Law firms that understand their economics are more likely to capture and maintain an edge in today's highly competitive legal market.
A law firm's economic model defines how the firm runs from an economic perspective and allows a firm to:
generate fees

reward origination

manage overhead

invest earnings, and

define the threshold profit levels.
When a law firm understands its economics, it knows what drives the firm's practice, profitability, and success. It is also in a better position to:
adapt to unforeseen changes

work more efficiently

respond to evolving client demands

retain the best attorneys
Law firms that are able to operate within a defined economic model have a sustainable competitive advantage.
Building an economic model is as much a strategic exercise as it is a financial one. Both disciplines must have input into the process.
A good process, the right modeling tools, and experienced support can reduce the frustration, and fatigue related to creating a financially and strategically sound economic model. Our latest eBook can help.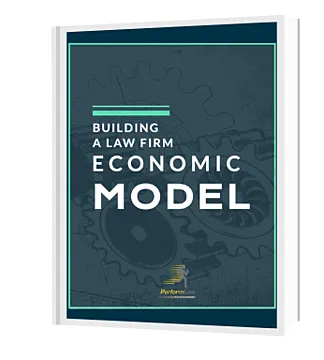 Download "Building a Law Firm Economic Model" (pdf) to guide your law firm through the following:
What is an economic model and why is it important to your law firm?

The essential components of building an effective economic model

Additional resources include an editable One-Page Economic Model (pdf)