With an estimated 65% of equity partners approaching retirement age over the next decade, most attorneys working in a firm will be affected by the challenge of transition planning. While this statistic is notable, most law firms pay little attention to partners' plans for retirement.

Transitioning a firm is possible but is typically difficult. Advance planning and process development can significantly improve a firm's ability to transition. Forward-thinking firms recognize the complexity of successfully passing leadership and clients from one generation to the next. If you avoid retirement discussions, it only leads to an increasingly anxious workforce and creates an opening for competitors.
In our eBook below, we give you 10 key steps or helpful advice in developing an effective transition plan for your law firm.
Examples of this advice include a few examples of listed below:
Prepare work-life timelines for all attorneys within 10 years retirement age.
Use objective methods when evaluating buyout pay decisions.
Use a process for valuing the firm.
Continuously build the firm's going concern value.
Download "10 Key Steps to Law Firm Transition Planning" here.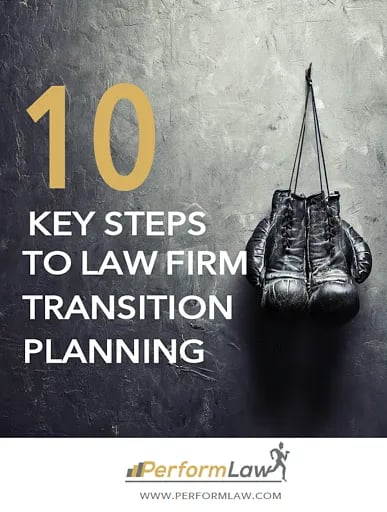 Lawyers and Firm Administrators Are Busy Enough
The sustained focus it takes for a firm to accomplish successful transition planning is often difficult for administrators and lawyers who must manage daily business demands and pressing client service issues. PerformLaw can help your firm to assess the relevant risk factors and create a buyout structure. In removing the economic disincentives for senior partner retirements, your firm can increase the chances of a successful transition.
When carefully planned and given a sufficient amount of time, transition planning allows your law firm to retain its best attorneys and attract potential laterals who see an opportunity to participate in the firm's future. Clients also benefit from proactive transition planning, which affords them a stable long-term solution for their legal needs.
ARE YOU READY TO GET HELP WITH YOUR LAW FIRM'S TRANSITION PLANNING?