With an estimated 65% of equity partners approaching retirement age over the next decade, most attorneys working in a firm will be affected by the challenge of transition planning. While this statistic is notable, most law firms pay little attention to partners' plans for retirement.

Without careful planning, the investment and hard work you have put into your firm could end up benefiting your competitors. In the eBook shown below, we give you 10 key steps to develop an effective transition plan.

Firm Administrators and Lawyers Are Busy Enough
The sustained focus it takes for a firm to accomplish successful transition planning is often difficult for administrators and lawyers who must manage daily business demands and pressing client service issues.
Download "10 Key Steps to Law Firm Transition Planning" here.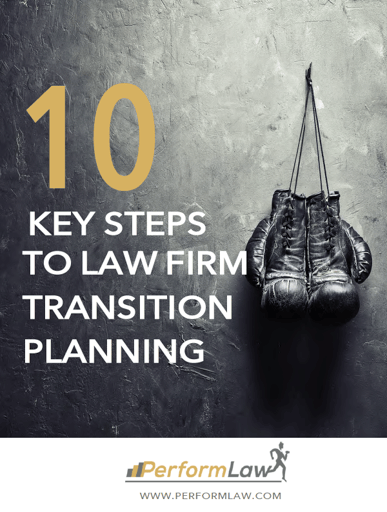 READY TO SEE IF PERFORMLAW CAN HELP YOUR LAW FIRM WITH TRANSITION PLANNING?