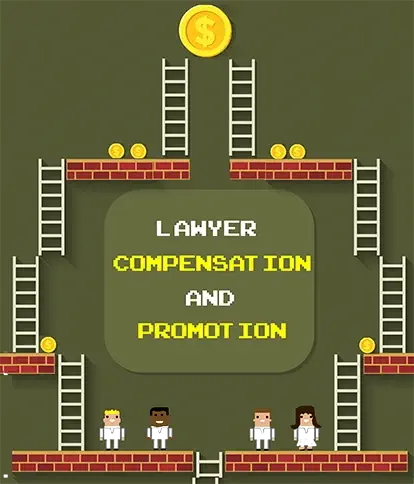 Fairly compensating and promoting nonowner lawyers (associates, income partners, counsel, of counsel, etc.) is best accomplished using a structured process. The process should be transparent and include:
a consistent application of rules and guidelines
adherence to policies
practice relevant evaluation criteria
rewards for lawyers who contribute economically and strategically
Additionally, a rewards system is most effective and credible when lawyers and firm members can easily comprehend the results of the process. Everyone should be able to understand who is getting ahead and why.
TO START
For starters, we recommend developing compensation and pay plan policies coupled with advancement criteria. An important group of subset policies and processes includes practice planning, management reporting, and performance improvement support.
To Note
It is worth noting that implementing these policies can result in a negative reaction initially from some lawyers. Typical sentiments fall into the following categories:
Overly structured policies;
Complexity of policies;
Extreme changes;
Too "big firm-like"; and
Discomfort with profitability concepts.
The best way to address these concerns is to provide detailed explanations, provide helpful examples, and allow for input from those impacted before adoption.
As mentioned, we recommend creating two main policy documents that address compensation and career progression. The main elements of each should document include:
Lawyer Compensation Policies and Pay Plans
Compensable factors

Objective
Subjective

Timing of salary evaluations and bonus payments

Evaluation periods
Timing of bonus payments and salary adjustments

Setting base salaries and salary adjustments
Subjective and objective bonus types, formulas and rewards
Guidelines and policies regarding any adjustments to objective formulas

Maternity and paternity leave
Short-term illness
Death of a close family member, etc.

Alternative compensation plans

Fee sharing
Profit sharing
Hourly compensation
Other pay plans

Available support tools

Practice plans
Marketing plans
Mentoring
Regular and ad hoc meetings
Performance reporting
Lawyer Advancement Criteria
Attorney progression levels, and eligibility timing

Job titles
Eligibility time period

Service requirements

Contiguous service with the firm
Credit for lateral service

Qualitative Factors

Quality of legal work
Ability level (Expert, Advanced, Intermediate, and Novice)
Demonstrable participation in bar, professional, and civic associations
Publishing, content contribution, and speaking
Business contributions and competence
Client relations and service
Management of the billing relationship
Training and supervision
Work ethic
Recruiting contributions
Pro bono
Firm-specific contributions

Explanation of equity membership

Responsibilities and benefits
Expectation setting

Equity membership admission and progression

Admission criteria
Progression process

Lateral hiring considerations

Credit for lateral service toward partnership
Direct admittance to membership
Organizational development on this scale works best for firms who have transcended the start-up phase and desire to build long-term organizational value. It is hard work, often resisted in the early stages, and threatening to some. Investing the time, however, to write these policies, customize them to the firm's culture, consider best practices and market influences, and apply them consistently can result in a more productive and satisfied lawyer group.
---
For additional information on law firm compensation or admitting new law firm partners, check out these resources and articles. Or contact us to schedule a time to answer your questions about admitting new partners