As we delve into the various parts of a law firm's marketing mix, a law firm's website is an important component. Here, we will discuss the purpose of a law firm website, along with the essential elements of creating a website.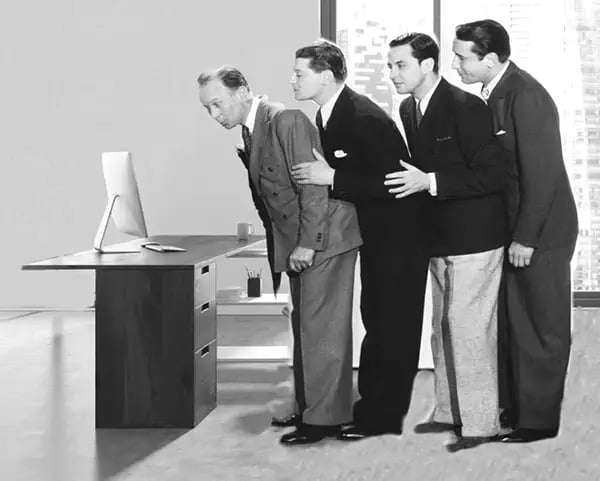 Most attorneys proclaim that if they do good work, clients will come. We often hear attorneys say, "no one sends me a case after only seeing my website." Progressive firms understand that a website is a gateway to a law firm that can showcase the firm's expertise and people
These firms have witnessed the powerful results that come with having a strong website.
Purpose
Sure; a lot of business is generated from doing good work and getting referrals. However, these client prospects will undoubtedly review a firm's website and attorney profiles for further verification of credentials. A strong website highlights the firm's capabilities, builds credibility in the firm's areas of practice, and reaches the targeted audience with the right content.
The quality of a website is driven by content and design. A nice-looking website with weak content is fun to look at once, but not worth revisiting. Equally ineffective is a website with great content that is difficult to access. Through our experience, we have found law firms are able to create a successful website that is both informative and visually appealling when they follow these tips:
How to do it
Before jumping into the creation of the website, preparation is crucial. Of most importance is ensuring that firm leadership is fully on board and ready to show full support of the development effective website. Without this support, your project will be met with many frustrations and will be nearly impossible to complete.
Next, it is smart to pull together a small internal decision-making team, having one person as the website authority. When too many people are involved in a website project, the site quickly loses precedence. Engaging someone from the firm's management team who has an interest in the project can help to ensure that the project remains a priority.
With the needed leadership and internal team in place, the firm can focus on these essential elements of a strong website:
Content Development
Designer Selection
Ongoing support and maintenance
1.) Content Development
Most lawyers consider content development as being difficult and design as being easy. This is because content relies on non-billable investments of time from individual lawyers and firm management processes. The website development process is more successful when firms prioritize and plan the content BEFORE hiring a web designer or discussing graphics and design.
Content is the foundation of the website from which other marketing initiatives grow. It is why visitors stay on a website and revisit the site again and again. It is what establishes the firm as an authority in certain areas and pushes clients and potential clients to trust you. In developing content for the website, law firms must consider the targeted visitor.
What legal issues and questions are on the minds of your target audience?
What does a potential client want and need to read to confirm their decision to hire your law firm?
Does the firm show that it understands the legal issues that clients are facing?
The firm's content development needs to extend beyond bios, service descriptions, and other relatively static information that has minimal value once it is read. Dynamic content includes articles, eBooks, infographics, case updates, videos and other forms of content that is continually added to the website. Strong content can not only increase your firm's web traffic, but it can educate your audience and position the firm as an authority in its various practice areas.
Completing the Website Plan Document below can help law firms save much time and frustration in developing their website.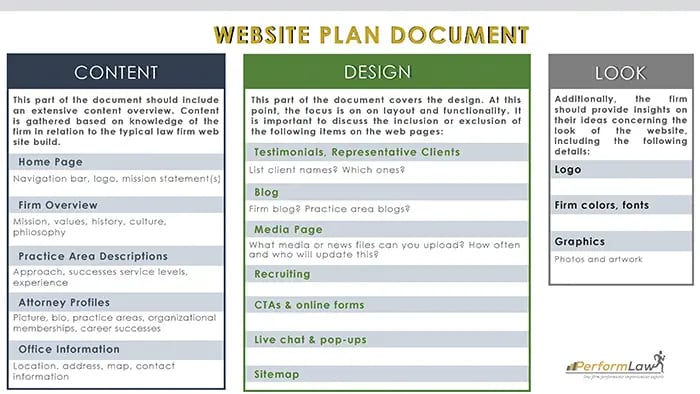 The design is often oversimplified and evaluated based on the visual appeal of the site. Much more than the way a site looks, design includes functionality, topic clustering, load times, ease of use, mobile display, consistency, coordinated landing pages that inform but not distract, analytics, and adequate opportunities for direct engagement.
2. Web Designer Selection
The design of the website is typically an outsourced function. Much more than the way a site looks, design includes a website's functionality, load times, ease of use, mobile display, consistency, coordinated landing pages that inform but not distract, analytics, and adequate opportunities for direct engagement. More important than ever before, a website must be responsive. With people viewing websites on their mobile devices, it is critical that firms have sites that function well across all devices.
Web designers and developers come in many forms. Some are marketing firms who have a web design person and some are firms that only do web design. Law firms often assume that their web design firm has all the requisite capabilities to effectively communicate a firm's brand through a website. However, experience has shown us that that most web design firms are only good at a few of the elements but must offer a comprehensive approach to compete.
Prior to hiring a web designer, we strongly recommend learning how to buy these services. Understanding the disciplines and capabilities necessary for a successful project and then hiring a web-designer based on these needs is strongly recommended.
Equally important is for your web designer to understand legal marketing and its challenges. They should recognize a firm's state ethics rules which can affect how a firm markets their practice.
3. Ongoing Maintenance and Support
Once a law firm has invested in the development of a new website, it should have the tools in place to keep it relevant.
Hosting
A law firm cannot afford to have a website hosting solutions that is slow, unreliable or vulnerable to security breaches. Ask for recommendations from you web designer and from other law firms. Select the web hosting provider that has the customer support level, security, reputation and price point to fit your law firm's needs.
Search engine optimization
After putting the time and effort into creating a web site, you want to make sure it targets the audience you want. Make sure that the hired designer handles both design and search engine optimization.
Updates and Editing
Updating a website has come a long way in the past decade. At one time, a web developer was needed to make even minor punctuation changes. With content management systems now like WordPress, minimal technical experience is needed to update a website. Make sure that your web developer creates a website that allows easy maintenance and edits. Also, ensure that they provide the necessary training on all editing functions.
Our next posts will look closely at additional components of a law firm marketing mix such as blogging and social media.
PerformLaw's marketing services can provide direction and focus to your firm's website development project or to your firm's overall marketing strategy.