So Your Law Firm Has High Turnover.....
Your law firm can apply the turnover calculations outlined in our previous article: Law Firm Turnover: What It Is & How to Calculate It, to determine your firm's turnover rate. This information can be powerful, especially if a high turnover rate is revealed.
Causes of High Turnover
Because law firms come in many different flavors, the causes for their problems often look different. Like the grim reaper approaching a mortal at his time of death, high turnover can arrive on your doorstep for many reasons.
Leo Tolstoy once said, "Happy families are all alike; every unhappy family is unhappy in its own way." It is much the same for law firms, as they vary in size, combinations of practice areas, locations, economic status, management styles, and business strategies.
Talk to your employees.
As you look under the hood, try to understand why the firm's employees would want to leave. Take the time to collect information by way of an anonymous employee satisfaction survey. You will need honest feedback if you are going to construct an objective view of what's going on. Ask about experience with office culture, compensation, management choices, work environment, workload, work schedules, and potential office conflicts.
Or if it's too late to keep an employee, request an exit interview. You can ask them about the topics mentioned above and about the new firm they're headed to, if applicable.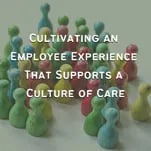 Learn how to improve employee experience in our article Cultivating an Employee Experience That Supports a Culture of Care.
Analyze historical data.
You can also take a look at data like the firm's finances. Begin by checking compensations and productivity for clues. An attorney might have left because she was producing far beyond her compensation, or because she had such a heavy workload that she burned out. You can also try to anticipate resignation by exploring productivity and compensation data in the same way. (As for employees who might be receiving below-average compensation for a legitimate reason, sitting down with them to ensure that there is a mutual understanding about the reasons for it can be valuable. In all of the above, communication is paramount.)

We talk more about attorney compensation in our podcast episode, 4 Characteristics of a Weak Law Firm Compensation System,

and our article Well-Developed Compensation Policies and Pay Plans for Lawyers
What to Do About High Law Firm Turnover
Once you are in this situation, how do you fix it?
Much of this hinges on the root causes you identify, which makes that step so important. A good doctor always observes carefully and diagnoses the problem before prescribing medication.
Prevention is the best medicine, but sometimes just-in-time solutions can look similar to preventive measures. Here are a few examples.
Strategize your capacity.
Do you have a handle on the number of billable hours each attorney is capable of producing in a year? (For firms that deal primarily with flat fees or contingency cases, timekeeping is still helpful and can give important insight on workload.)
The working attorney and management should develop a mutual agreement regarding how many working hours the attorney can handle that year, and then separate that amount into billable and non-billable hours. We talk more about capacity analysis here. If the attorney has been producing outside of the healthy capacity range, this exercise can help you identify and mitigate this in the future.
Review the workload distribution.
You can use this either as a proxy for or in addition to the previous option. Take a look at billings and collections by an attorney in the previous year. These numbers can help identify which employees are the hardest workers, including which ones might be overworking themselves. Similarly, you may also be able to help the ones who are falling behind.
Incentivize attorneys with profit bonuses and/or retention bonuses.
Although there may not be a one-size-fits-all bonus program, and retention bonus incentives may not be the answer for all firms, these are options very much worth considering. A profit bonus not only motivates attorneys and paralegals to work, but it keeps them engaged in their jobs, and it shows them that management is paying attention to what they do and aims to reward them for doing well.
Meanwhile, retention bonuses are designed to reward longevity in a firm and are usually structured to payout after a certain duration of employment. For example, all employees who have been with the firm for at least 5 years might receive a bonus that is 20% of their base salary.
Develop an Attorney Relationship Management System (ARMS).
This system incentivizes attorneys to be profitable, gives them a goal to work toward, and provides a concrete structure for the future. Law firms that establish a culture of consistency and stability can expect consistency and stability in return.
We discuss this in greater detail in the following articles and resources:
Creating An Attorney Performance Syste

m That Works!

Extending the Life of Your Firm with Attorney Development.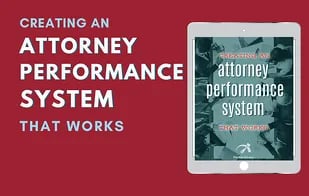 Creating an Attorney Relationship Management System (ARMS) can prevent poor performance, low morale, and turnover at both small and large law firms. Download this free eBook to learn more.
Download Attorney Performance System eBook
CONCLUSION
If you're feeling overwhelmed about tackling turnover, our best advice is to focus on just one of these solutions and master it. Engaging in even one of the above solutions has the potential to advance the company well beyond its former condition.

This is partially because communication is number one. Even before any effort to change is put forth, a manager will benefit greatly from simply communicating their intentions with employees on a regular basis, and not just because they will gain valuable information.
When employees see that management is actively concerned, seeking out stumbling blocks and troubleshooting them, they will have more respect for the company and a strong reason to remain loyal for years to come.
---
If your law firm wants to learn more about determining its turnover rate or contending with
a high turnover rate, PerformLaw can help.
Click here to set up a time to talk more with us.