As we discussed in our last post, a firm's employee experience is the accumulation of encounters and associated feelings a person has to influence their overall perception of the place they work. With the current labor shortages and need for better workers in all industries, the employee experience is more important than ever to the livelihood and success of a law firm.
When organizations invest in developing a positive employee experience, they find the following benefits:
Less turnover

Increased productivity

Better client service

Higher profits
For law firms wanting to develop or improve their employee experience, these 5 steps are essential: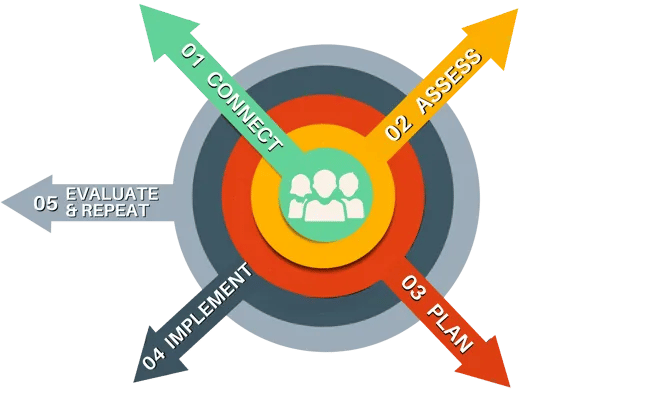 1. Connect.
Instead of viewing the relationship between the employee and the organization as purely contractual, leaders should see the relationship as a community partnership. Leaders should ask themselves how they can build a community that best supports the employee to:
Meet the firm's goals;

Build individual character;

Develop professionally; and

Have an enriched lifestyle
Next, leaders need to identify what kind of culture and experiences the firm wants employees to have. This should speak to your organizational goals, the type of character you expect your employees to have as they work to meet those goals, the needs and wants of your employees, and how you want your employees to feel in the work environment. This will require some research through making real connections with your employees.
You will need to work to identify people who are cultural influencers within your organization, consider those perspectives, then strategize how to best use cultural influencers in your plans to build a team that can help design the ideal employee experience. This can be done by conducting surveys and immersing yourself in face-to-face casual encounters with team players outside of your direct social network within your organization.
2. Assess
Assess your current work environment. We spend most of our lives in the workplace. Therefore, it is important to have a healthy environment intentionally designed to bring out the best in its employees. This is especially important in the eyes of a pandemic that has heightened stress levels for many people. More than ever, people need empathy, support, stability, and security. Be sure to consider questions that may affect your employees more personally, including:
How does your organization handle life's events?

How does your organization acknowledge the achievement of goals?

How does your organization recognize personal milestones?

How well does your firm culture adapt to external change?

How is collegiality within your firm?

How does your organization react to people needing time off?

Are you prepared to accommodate your employees during unexpected events?
3. Plan
As previously mentioned, values that support the employee experience should be lived out in the daily functioning of the work environment. It should be a part of the culture and the organization's brand. All interactions should be strategized and should reinforce the values of the organization. Be sure to build out a system that is SMART (specific, measurable, achievable, realistic, and timely).
Specific areas to target include:
Onboarding process

Regular communication (employees should perceive respect and transparency in all communication)

Career path development

Performance evaluations and feedback

Off-boarding process
Supportive Management
One of the best approaches to nurturing the employee experience is through initiating supportive management. Leaders in should manage with the intent to be constructive, empathetic, and respectful. When building an employee experience, managers should always seek ways to improve, involve, and foster employee engagement. Give the employees opportunities to:
Innovate

Use autonomy

Be trained
4. Implement
Once you have a solid strategy in place to enhance the targeted areas for improvement, it's time to implement the plan. It's extremely important to document and track progress, noting successes and concerns throughout the process to revisit in the next step. When formulating a strategy to enhance the employee experience, it is best practice to equip your organization with professional organizational development guidance.
We have developed an Attorney Relationship Management System (ARMS) that works to comprehensively improve the inner workings of your firm by streamlining the core components of organizational success. The ARMS functions differently for every firm, which is why we deliver customized plans to meet your organization's unique needs.
To help you navigate the journey of building a culture of care, we are sharing a guide that leaders can use as a checklist to ensure consideration is given in high-impact areas of the employee experience.
Review and download a fre

e copy of Performlaw's

5-page Guide/Checklist to the Employee Experience

below.
5. Evaluate and repeat
Measure the success of your plan with concrete data.
Conduct communicative surveys,

Engage with your employees to get constructive feedback,

Consider changes in workflows and performances to determine where actual achievements were where improvements are needed.
Continue to repeat the process; cultivating a positive employee experience is a continuous process. Always consider how your organization can improve and do the work collectively.
As previously mentioned, the employee experience influences employee choices and behaviors that can positively or negatively impact a firm's success.
It is in a firm's best interest to cultivate a positive employee experience so the firm can reap the benefits of an engaged and committed workforce. Since positive employee experiences satisfy the employee's fundamental and intrinsic needs, an employee's perception of the firm will be positive.
A positive employee experience is an invaluable investment that benefits your
business and the lives of those involved with your organization. By choosing
to invest in your people and establish authenticity, you are choosing to
build an organization.
Contact Performlaw today to schedule time to discuss how we can help your firm build out a plan that will cultivate positive employee experiences that supports a culture of care where your employees feel valued, seen, heard, supported, and connected to the mission of your firm.