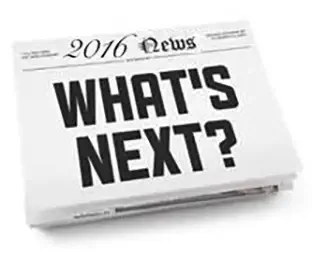 In the most recent issue of inVOICE, Brian Kennel's prediction was considered "the best" of the 41 Legal Industry Predictions for 2016 collected on the LexisNexis Business of Law Blog. inVOICE is a newsletter providing short, informational executive briefs designed for law firm executives and managing partners developed by InvoicePrep.
From the article.....
What's The Best 2016 Prediction?
While I can't say which of these many interesting predictions is the most accurate, the one that really resonated with me, that I really thought hit the mark, was made by Brian Kennel of PerformLaw. Frankly, I thought he really nailed it with a prediction supported by what we are seeing with our law firm customers as well. Here's what Brian said.
"2016 will see significant advances in litigation management metrics and 3rd party lawyer rating services. Clients have been managing lawyer performance mostly as a billing concept. This year will see big data approaches to win/loss rates, lawyer performance by jurisdiction, case type, cost and just about any measurable factor.

Smart firms will recognize these trends and add value to the change process. Self-analysis of case handling performance including length of time files remain active, average total cost of cases including legal fees and indemnity, lawyer efficiency comparisons for similar assignments and competitive comparisons are great places to start.

Data-driven approaches to the practice of law will be terrifying for some and an incredible opportunity for others."
Why Is This Prediction So Powerful?
Let me tell you why this prediction resonates so strongly with me. There are two reasons.
First, these exact data elements are what the e-billing software providers have been suggesting to clients for years that their billing and matter management software will provide. In other words, clients have been told for some time that they can have clear transparency into comparative law firm performance by using these data points.
Second, this prediction resonates strongly with me because we have been recommending to firms that they analyze these precise data elements and that they present them back to their clients as market-differentiators. In other words, that firms should take the lead in this conversation as a way to distinguish their firm's performance from others'.
I agree with Brian's prediction, in that others have also suggested that law firms need to be increasingly ready to present these data point. A recent article in Litigation Management magazine spoke to similar issues.
What is good for firms is that, while it took their clients years to begin acting on the billing data they have been accumulating, law firms can "catch-up" almost immediately, given the new billing technologies in the marketplace. For example, our invoice preparation software, with a couple of tweaks regarding outcome, jurisdiction, and file duration, enables firms to provide their customers and new business opportunities with an accurate snapshot of their performance, and with more detailed data than they've ever used before.
To read the article in its entirety, CLICK HERE
For more information about article contact:
Taylor Smith, Advisory Board Chair
InvoicePrep
(224) 212-0134