Thinking about starting a law firm?
Two of the most compelling strategic reasons we hear for starting a new firm include the opportunity to create a unique client offering and the freedom to execute quickly. We refer to this as having the ability to "turn the ship into the wind".
Market aware partners who realize that they are missing opportunities frequently decide that starting a new law firm is the best way to accomplish their goals. Their vision and passion fuels the creation of these firms.
In other instances, lawyers are unhappy with their existing situations and want more control over their futures. Normally, these partners are searching for a more competitive overhead structure, better compensation, more influence on decision making and better personal relationships in a firm they help create.
Still other lawyers are forced into starting a new firm as a result of their existing firm declining or breaking up. When this occurs, speed is essential to ensuring that no client losses occur from the negative publicity.
Whatever the reasons for starting a new law firm, the steps in the startup process are much the same and are as follows:
The main elements of starting a law firm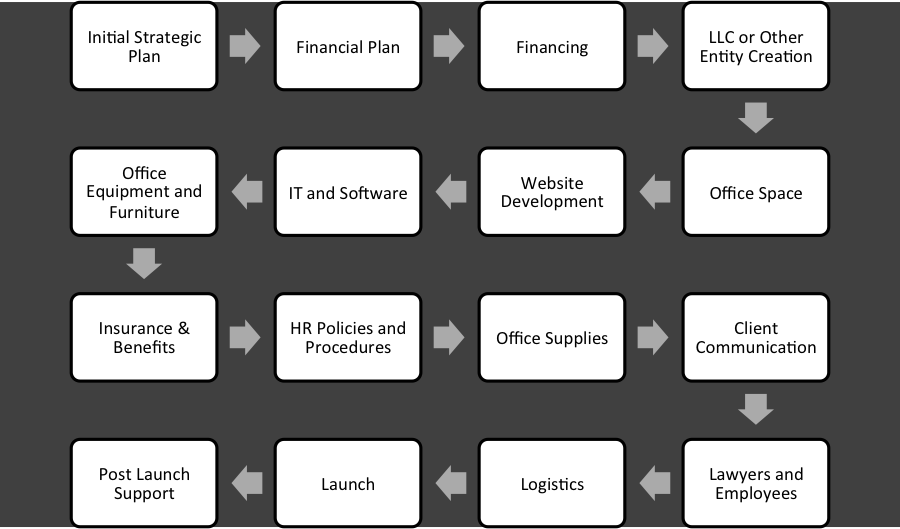 Finding the time to plan, execute and manage these steps is daunting. Investing in the right outside support will make this process more efficient, move at a much quicker pace and produce a better result.
Often new law firm startups are concerned about the cost of contracting with the necessary resources at a time when cash flow is negative. The challenge is to find quality law firm consultants who are willing to work on a flexible billing basis and who recognize the potential for a longer term relationship.
If you would like to schedule a confidential call with us to discuss your startup and how we may be able to help, we would welcome that opportunity. As we are most interested in ensuring we understand your needs and our ability to meet them, there is no cost for the initial consultation.